"IF WE COULD FIRST LEARN WHERE WE ARE AND WHERE WE ARE GOING, WE WOULD BE BETTER ABLE TO JUDGE WHAT TO DO AND HOW TO DO IT."

ABRAHAM LINCOLN
Bachelor of Economics (BS)
School of Business and Economics
Atlantic International University

The Bachelor of Economics (BS) program objective is help professionals develop an understanding of business, markets, trade, government policies and international issues, globalization, health, development, and the environment; so that they can become economists and analysts in the public and private sectors leading to careers in business, finance, international development, health, human resource management, marketing, management and research. The Bachelor of Economics (BS) program is offered online via distance learning. After evaluating both academic record and life experience, AIU staff working in conjunction with Faculty and Academic Advisors will assist students in setting up a custom-made program, designed on an individual basis. This flexibility to meet student needs is seldom found in other distance learning programs. Our online program does not require all students to take the same subjects/courses, use the same books, or learning materials. Instead, the online Bachelor of Economics (BS) curriculum is designed individually by the student and academic advisor. It specifically addresses strengths and weaknesses with respect to market opportunities in the student's major and intended field of work. Understanding that industry and geographic factors should influence the content of the curriculum instead of a standardized one-fits-all design is the hallmark of AIU's unique approach to adult education. This philosophy addresses the dynamic and constantly changing environment of working professionals by helping adult students in reaching their professional and personal goals within the scope of the degree program.
Important: Below is an example of the topics or areas you may develop and work on during your studies. By no means is it a complete or required list as AIU programs do not follow a standardized curriculum. It is meant solely as a reference point and example. Want to learn more about the curriculum design at AIU? (Course and Curriculum)
Core Courses and Topics in Economics:
Macroeconomic Policy
International Economics
Money and Finance
International Finance
Urban and Transport Economics
Macroeconomic Principles
Microeconomic Principles
Fundamentals of Econometrics
Critical Thinking
Microeconomic Analysis
Macroeconomic Analysis
Public Economics
Econometric Principles
Taxation Economics and Policy
Economic Development
Labor Market Economics
Industrial Organization
Statistics
Techniques and Elements of Finance
Marketing Fundamentals
Information Technology

Orientation Courses:
Communication & Investigation (Comprehensive Resume)
Organization Theory (Portfolio)
Experiential Learning (Autobiography)
Seminar Administrative Development (Book Summary)
Seminar Cultural Development (Practical Experience)
Seminar International Development (Publications)
Research Project in Economics:
Bachelor Thesis Project
MBM300 Thesis Proposal
MBM302 Bachelor Thesis (5,000 words)
Publication: Each Bachelor of Economics graduate is encouraged to publish their research papers either online in the public domain or through professional journals and periodicals worldwide.
Career Center: Economics Graduates
Job Description for Bachelors in Economics
Economics graduates pursue careers in business, education, government, and the non-profit sector, and some pursue advanced degrees. Future career options may be determined not so much by the choice of the Economics major, but by your interests, skills, values, and types of work experiences acquired during college. Regardless of your career aspirations, increase your marketability to employers through internships, related work experience, good grades, advanced coursework, and involvement in campus activities. Many careers do not require a specific major, but rather a wide range of demonstrated skills, accomplishments, and related work experience while in school.
Skills for Success
Able to think logically and analytically
Able to discuss views clearly in a variety of forums
Able to write concisely
Good at mathematics and statistical analysis.
Employment Opportunities for Economics Majors
Actuary
Bank Examiner
Bank Research Analyst
Benefits Administrator
Business Manager
Claims Examiner
Collection Agent
Commodities Analyst
Commodities Trader
Controller
Cost Analyst
Credit Officer
Demographer
Economic Research Assistant
Economist
FBI/CIA Agent
Financial Analyst
Financial Planner
Financial Researcher
Health Policy Planner
Human Resources Administrator
Insurance Agent/Broker

International Trade Specialist
Investment Banking Analyst
Investment Counselor
Job Analyst
Job Developer
Labor Relations Specialist
Lawyer
Management Accountant
Market Research Analyst
Marketing/Sales Manager
Mortgage Loan Officer
Product Manager
Project Coordinator
Property Manager
Public Administrator
Purchasing Agent
Real Estate Investor
Securities Broker
Statistician
Systems Analyst
Technical Writer
Underwriter
Resources for those with Bachelors in Economics field
Contact us to get started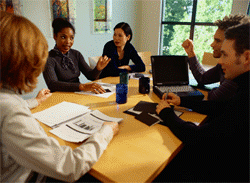 We understand how busy adults do not have time to go back to school. Now, it's possible to earn your degree in the comfort of your own home and still have time for yourself and your family. The Admissions office is here to help you, for additional information or to see if you qualify for admissions please contact us. If you are ready to apply please submit your Online Application and paste your resume and any additional comments/questions in the area provided.